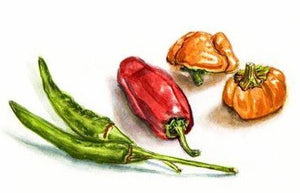 Branch & Vine Pepper Party Jam is a delectable spread made with a unique blend of five different types of peppers. The jam is a perfect balance of sweet and spicy, with the sweetness derived from the balsamic vinegar used in the recipe.
The peppers used in the jam include the mild and flavorful bell peppers, the spicy and iconic jalapeno peppers, the mildly spicy and fruity Fresno chiles, the rich and smoky poblano peppers, and a hint of the famously spicy ghost peppers.
The combination of these peppers gives the jam a complex flavor profile that is both spicy and savory. The texture of the jam is smooth and creamy, making it an ideal spread for toast or crackers. This jam is a must-try for any spicy food lover, as it offers a unique taste that is hard to come by in other condiments.