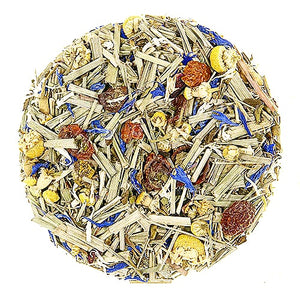 *******FUNCTIONAL TEA: SLEEP-AID*******
INGREDIENTS: Lemongrass, Peppermint, Camomile, Rosehip, Spearmint, Valerian Root, Hibiscus, Cornflower petals
CAFFEINE CONTENT: None - Caffeine Free Herb and Fruit
ANTIOXIDANT CONTENT: Low
INFORMATION:
Perhaps the most famous lullaby of all time is "Wiegenlied: Guten Abend, gute Nacht", otherwise known as "Lullaby and Goodnight", published by German composer Johannes Brahms in 1868. It goes:

Lullaby and goodnight, with roses bedight
With lilies o'er spread is baby's wee bed
Lay thee down now and rest, may thy slumber be blessed
Lay thee down now and rest, may thy slumber be blessed

The song works wonders on children. Unfortunately, as we age, lullabies tend to lose their efficacy. (Read: no one will sing them to us!) So, what to do when the minutes stretch to hours, as you lie staring at the ceiling? We have just the solution - a delectable tisane designed to "bless thy slumber" sip after sip.

Naturally caffeine-free, Lullaby blends a number of sleepy-time herbs to soothe the spirit and calm the mind. To ensure you sleep even more soundly, we've sourced each of these from growers known for their environmental sensitivity, letting you rest assured the environment wasn't harmed to facilitate your slumber. Don't forget to turn the lights out.

More about our key ingredients:

Valerian Root: Believed to elevate gamma-aminobutyric acid in the brain and induce sleep.

Chamomile: Known for its mild sedative effects.

Peppermint & Spearmint: Said to ease the mind into preparation for sleep.

Rosehip: Packed with Vitamin C - thought to act as a natural antidepressant and sleep aid.
HOT BREWING INSTRUCTIONS: Bring filtered or freshly drawn cold water to a rolling boil. Place 1 slightly heaping teaspoon of loose tea for each 7-9oz / 200-260ml of fluid volume in the teapot. Pour the boiling water into the teapot. Cover and let steep for 3-7 minutes according to taste (the longer the steeping time the stronger the tea).