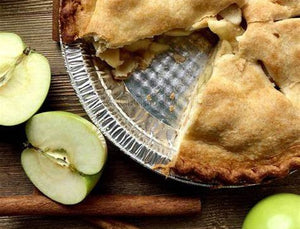 COMING SOON
Branch & Vine jam is a delightful treat for those who love the rich, comforting flavors of apple pie. This particular jam is made with the tart and crisp Granny Smith apples, infused with the warm and aromatic spices of cinnamon, and finished off with a touch of tangy balsamic vinegar.
The result is a perfectly balanced flavor that tastes like a freshly baked Granny Smith balsamic apple pie. The jam's texture is velvety smooth and spreads effortlessly on toast, crackers, or any other baked goods. Every bite is bursting with the sweetness of the cooked apples, complemented by the spiciness of cinnamon and the slight tang of balsamic vinegar. This jam is perfect for adding a touch of homemade goodness to your breakfast or as a dessert topping.
The Branch & Vine jam made with Granny Smith apples, cinnamon, and balsamic vinegar is truly a treat for the senses, transporting you to a warm and cozy kitchen filled with the aroma of freshly baked apple pie. Just like granny used to make!